Home
|
Encylopaedia
|
Composers
| MONTEVERDI
Claudio MONTEVERDI (1567-1643)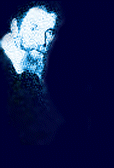 Italian music of the seventeenth century was dominated by the Italian composer Monteverdi who was born in Cremona. He was one of the main composers who assisted in the transition from polyphony to homophony and hence helped move along the style from "Renaissance" to "Baroque". Monteverdi also experimented with rhythms such as stressing weaker beats and he established the Baroque method of declamation with continuo accompaniment. He made much greater use of dissonance as an expressive device than his predecessors. It is of interest to note however that he did not compose a single piece for instruments only.
He was only 17 when his first musical publication was issued and he became a major pioneer of opera, enriching it's orchestration. He took over opera from Florentine Camerata by which he was heavily influenced, particularly "Euridice" (1600) by Peri. He wrote over forty operatic works, however only three have survived. His main period of opera composition was between 1620-1625 even though his first opera "Orfeo" was produced in 1607. "Orfeo" portrayed a mythological story full of expressive styles and it demanded singers with a high level of virtuosity. It's theme is one of Orpheus's journey to the underworld to rescue his beloved Eurydice. It had for it's time an unusually large variety of musical instruments. His wife and mother of his three children died in 1607 soon after it's first performance.
"L'Arianna" was produced in 1608 (only the Lamento has survived) and was published in the form of a madrigal. "L'Incoronazione di Poppea" translated as the coronation of Poppaea was composed in 1642. This work was concerned with the Roman Emperor Nero and his lover Poppaea.
Monteverdi took up position with the Duke of Mantua in 1583 until 1612 as maestro di cappella where he played the violin and viol. He then became Master of music of the Venetian Republic. He composed much sacred works which increased his fame such as "Vesperae" (1610) and "Selva morale e spirituale" (1640). Twelve of his operas were destroyed in 1630 when Austrian troops ramsacked Mantua and during the same year, Venice was hit badly by the plague. Monteverdi took holy orders in 1632 but his interest in opera was renewed when the first opera house San Cassiano was opened in Venice. For the remaining six years of his life he wrote much music of which only two works survive.
Monteverdi was a brilliant madrigalist and published many madrigal collections throughout his career which spans over forty years, the first when he was only fifteen "Sacrae cantinunculae". The early ones acappella, the later ones in the concerted style. He also wrote many masses and motets. Monteverdi was among the earliest composers to use solo voices in his compositions.
Monteverdi died in Venice on the 29th November 1643.
Essential Albums:
Click on album cover to buy.