Home
|
Encylopaedia
|
Composers
| MOZART
Wolfgang Amadeus MOZART (1756-1791)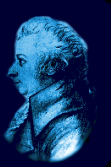 Wolfgang Amadeus Mozart was an Austrian composer who with Haydn and Beethoven (early work) reflects the style of late eighteenth-century classical music (courtly style). Mozart was born in Salzburg on the 27th January 1756 and became a prodigy at the age of three. He could play the harpsichord when he was four and had started composing sonatas at the age of five. He made his first public appearance at the age of five when his father took him to Munich where he played at the court of the Elector of Bavaria. He wrote his first symphony before he was ten, his first opera at twelve and before adulthood he had composed music in almost every form and had travelled widely. His father took him around Europe where he made numerous public appearances and was put to various tests. He was a capable violinist in addition to being a brilliant pianist. He mainly learned new skills by picking them up after listening to other composers.
During his life he struggled financially and was occasionally close to poverty. He was obliged to regularly borrow money. He was difficult to employ as he was too young for a senior position and too accomplished for a junior one. In 1777 he was refused a post in Munich, Mannheim and in Paris, where his mother who was travelling with him died. He worked for Emperor Joseph II who rewarded him too late. In 1780 he was invited to Munich to compose an opera "Idomeneo" for the court theatre which was a great success. He then went on to Vienna in 1781 where he resigned from Salzburg court service. He spent most of his adult life in Vienna.
He became a freelance musician after working for the Emperor and gave public subscription concertos in order to make a living. He also gave piano lessons and one of his favourite pupils was Hummel who became a fine composer himself. He heard a young Beethoven play the piano at a party in Vienna and was greatly impressed.
During his career, he wrote well over 600 works which includes 20 operas, 17 masses, 27 piano concertos, wind concertos, 27 string quartets, 41 symphonies and huge quantities of chamber and incidental music. His passion was for opera and his most famous operas include "The marriage of Figaro" (1786) which was successful in both Vienna and Prague and "Don Giovanni" (1787) but his "Die Entfuhrung aus dem Serail" opera caused quite a stir when it was first performed in 1782. Mozart enjoyed a period of popularity in Vienna between 1784-86 with his piano concertos, of which he had written 12 by this period. By the time he was 33 however, his time in Venice was becoming dull and he was no longer in demand as a pianist.
In one year, 1788, he composed his three greatest symphonies in E-flat, G minor and C (Jupiter). During the final year of his life in 1791 he wrote two operas "La clemenza di Tito" and "The magic flute" which was a great success. This opera was a singspiel (a German opera with spoken dialogue). "The Marriage of Figaro", "Don Giovanni" and "The Magic Flute" were all comedy operas. He died on the 5th December after a three week feverish illness with his Requiem work unfinished. Vienna did not value him until he was dead and buried. He was buried in a pauper's grave leaving debts behind.
Essential Albums:
Click on album cover to buy.