Home
|
Encylopaedia
|
Composers
| NAMLOOK
Peter NAMLOOK ()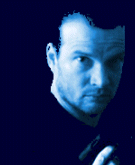 Peter Namlook aka Peter Kuhlmann is a highly prolific composer and founder of the independent Fax label in Frankfurt, Germany. He has known to have collaborated and released work two to three times each and every week on average and specializes in releasing mostly limited-edition music. Before he became involved in dance and ambient music he experimented with the sitar and new age jazz styles. His early solo EPs were shrouded in mystery with the labels being distinguished by a number.
Albums have included "The Definitive Ambient Collection" (1993), "Summer" (1995) and "Air" and "Air II" (1994) on the Instinct label. Namlook has also collaborated with many other artists and resultant albums have been numerous such as "Shades of Orion" (1993), "Shades of Orion 2" (1994), "2350 Broadway", "2350 Broadway 2" (1994) & "2350 Broadway 3" (1995) with Tetsu Inoue, "Psychonavigation" (1994) & "Psychonavigation 2" (1995) with Bill Laswell, "Koolfang" (1995) with David Moufang, "Environmental Frankfurt" (1994) with Charles Uzzell-Edwards, "Wandering Soul" (1994) with Alban Gerhardt, "Silence I" & "Silence II" (1994) with Dr. Atmo, and "Dreamfish" (all credit to who designed the cover - 1993) with Mixmaster Morris.
Releases are normally colour coded to differentiate between the different types of music; yellow for trance, black for hardcore, green for house and blue for ambient. Only five or six hundred copies of any given release ever emerges, quickly selling out before being re-issued on a compilation CD. Between his many collaborations, Namlook has also found time for the Sequential project, released in the UK via Rising High. He has also been perceived to be at the forefront of the ethno-trance movement.
Essential Albums:
Click on album cover to buy.

Discography:
2350 Broadway (1992)
The Fires of Ork (1993)
Namlook VII: Live at the Interference Festival (1994)
The Dark Side of the Moog (1994)
Air 1+2 (1994)
The Dark Side of the Moog 2 (1995)
The Dark Side of the Moog 3 (1995)
Alien Community (1995)
4 Voice (1995)
Silence 1+2 (1995)
Sultan (1996)
Outland 2 (1996)
Namlook XI (1996)
Shades of Orion (1996)
Amp (1996)
Ozoona (1996)
Four Seasons (1996)
Electronic Music Centre (1996)
Dreamfish (1996)
The Dark Side of The Moog 4 (1996)
Time 2 (1996)
The Dark Side of the Moog 5 (1996)
Elektro 2 (1997)
A Day in the Life (1997)
Namlook & Held (1997)
Jet Chamber 3 (1997)
Psychonavigation 3 (1997)
Dark Side of The Moog 6 (1997)
Dark Side of the Moog 8 (live) (1999)
4 Voice All (2001)
The Fires of Ork, Vol.2 (2001)
Silence, Vol.1 (2001)
Silence, Vol.2 (2001)
New Organic Life (2001)
Silence V (2001)
Hemisphere (2001)
Wired (2001)