Home
|
Encylopaedia
|
Composers
| OASIS
OASIS (1991-)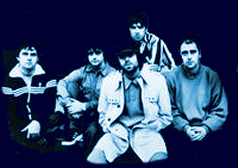 Oasis was formed in Manchester in 1991 with Noel Gallagher (lead guitar, songwriter), Liam Gallagher (lead singer), Tony McCarroll (drums), Paul (Bonehead) Arthurs (rhythm guitar) and Paul McGuigan (bass). It wasn't until 1994 however, that Alan McGee from Creation Records saw them playing at a club in Glasgow and signed them. Their first single "Supersonic" was released in 1994 and reached the no.1 position in the UK indie charts, followed by "Shakermaker", "Live Forever" and "Cigarettes and Alcohol". Their first album "Definitely Maybe" (1994) reached the UK no.1 chart position and went triple platinum. At Christmas they had a no.3 hit single with "Whatever" and in 1995 their "Some Might Say" single reached no.1 in the UK single charts. Other singles to follow were "Roll With It" and "Wonderwall".
Their second album was "(What's The Story) Morning Glory?" (1995) which not only reached the no.1 position in the UK album charts but went six-times platinum. It contained the single "Don't Look Back in Anger". Their third album was "Be Here Now" which was released in 1997, containing the single "D'You Know What I Mean". Bonehead left Oasis in 1999 and 2000 saw the release of their fourth album "Standing On The Shoulder of Giants".
Essential Albums:
Click on album cover to buy.
Discography:
Definitely Maybe (1994)
(Whats the Story) Morning Glory (1995)
Be Here Now (1997)
Standing on The Shoulder of Giants (2000)
Familiar To Millions (live) (2000)