Home
|
Encylopaedia
|
Composers
| OFFENBACH
Jacques OFFENBACH (1819-1880)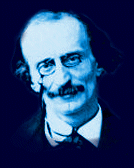 Jacques Offenbach was born in Deutz, near Cologne in 1819. Offenbach was not his original surname (which was Jakob Wiener, or possibly Eberst) but an adopted one, taken from Offenbach-am-Main, which was where his family came from. He was the son of the Cantor of the synagogue in Cologne and studied classical composition and cello at the Paris Conservatory between 1833 and 1837, earning his living playing cello in the orchestra of the Opera Comique. In 1850 he became conductor of the Theatre Francais. He spent most of his life in France and is considered by some to be a French composer (he had become a French citizen in 1860).
In around 1853 he began to compose operettas and finished over ninety of these before his death in Paris at the age of sixty-one. He is often thought of as the man who created French burlesque opera with its unforgettable Can-Can. He was unable to find anyone in Paris willing to stage his operas so he founded his own theatrical company in 1855. The company was called Bouffes-Parisiens (or the Parisian comics) which staged many of his operettas and he managed the company for many years. He founded no school, however. In 1876, he toured the United States. He also toured Britain, and his many works had great popularity everywhere. The poet Gilbert and the composer Sullivan joined forces to produce an English equivalent of Offenbach's work. He was widely copied, especially by Johann Strauss junior (1825-99).
His most famous works are "Orpheus in the Underworld" (1858, revised 1874) (based on the traditional story of the man who goes to hell to get his wife back, although in Offenbach's version he decides to leave her there) and the more serious "The Tales of Hoffman" (1877-1880) (which was in final preparation when he died, three months too early to witness its reception. His humour in "Orpheus" is superbly sustained throughout, especially with the Greek Gods dancing the can-can.
Other works have included "La Belle H?l?ne" (1864), "Barbe-bleu" (1866), "La Vie parisienne" (1866, revised 1873), "La Grande-duchesse de G?rolstein" (1866-67), "La P?richole" (1868, revised 1874) and "La fille du Tambour-major" (1879).
Essential Albums:
Click on album cover to buy.